Update 12/11/21: Added new $1,000 bonus tier with $500,000 deposit. Hat tip to reader Parts Unknown
Update 3/31/21: Requirements for the $100 bonus are now the same as they were for the $200 bonus and the $200 bonus has been removed entirely. Disappointing to see as it makes the offer far worse.
The Offer
Direct link to offer (READ CAREFULLY: this just shows you the offer details. You can't sign up using this link otherwise you won't get the bonus. You need to use a referral link)
Charles Schwab is offering a referral bonus of up to $500 when you're referred by a friend with a Charles Schwab account and open a new eligible account. The bonus you receive depends on your net deposit (this must be maintained for one year, minus any market losses):

Deposit $25,000-$49,999 and get a $100 bonus
Deposit $50,000-$99,999 and get a $300 bonus
Deposit $100,000-$499,999 and get a $500 bonus
Deposit $500,000 and get a $1,000 bonus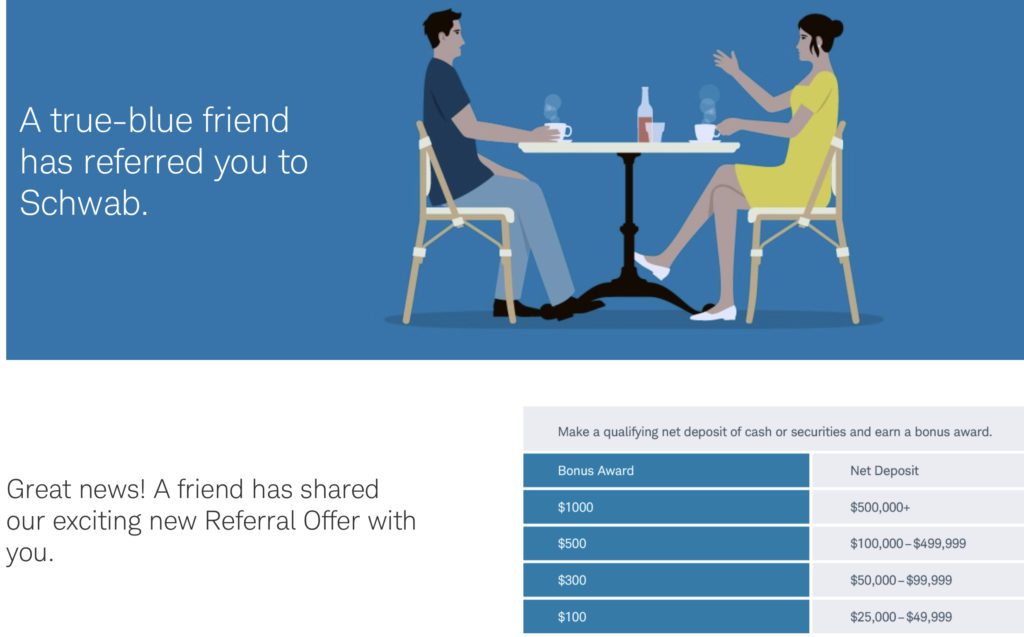 The Fine Print
Offer valid for referred individuals who do not currently have a Charles Schwab & Co., Inc. ("Schwab") account (other than a Stock Plan Services account) and who open and make a qualifying net deposit into an eligible retail brokerage account within 45 days of enrolling in the offer.
Net deposits are assets deposited into the enrolled account minus assets withdrawn from the account and transferred out of Schwab.
Only outside assets new to Schwab qualify; assets transferred from affiliates other than Schwab Retirement Plan Services are excluded.
Net deposits will be calculated as of the 45th day after enrollment, and the bonus award will be credited to the enrolled account within approximately one week.
For taxable accounts, you must maintain the net deposit amount (less any market losses) at Schwab for at least one year or Schwab may charge back the bonus award.
Schwab reserves the right to change the offer terms or terminate the offer at any time without notice.
This offer is limited to one per account, with no more than one account enrolled per client.
It does not apply to accounts managed by independent investment advisors, the Schwab Global Account™, ERISA-covered retirement plans, certain tax-qualified retirement plans and accounts, or education savings accounts.
The bonus award, when combined with the value received from all other offers in the last 12 months, may not exceed $5,000 per household, as defined in the Charles Schwab Pricing Guide for Individual Investors.
This offer is not transferable, saleable, or valid in conjunction with other offers and is available to U.S. residents only.
Employees, contractors, or persons similarly associated with Schwab or a Schwab affiliate; their spouses; and employees of any securities regulatory organization or exchange are not eligible. Other restrictions may apply.
Consult with your tax advisor about the appropriate tax treatment for this offer and any tax implications associated with receipt before enrolling. Any related taxes are your responsibility. For taxable accounts, the bonus award will be reported on your Form 1099-INT. IRS guidance may impact your ability to make more than one IRA-to-IRA rollover in a one-year period.
Our Verdict
Previously the bonus was $100, but didn't have a deposit requirement. Looks like both the checking account and brokerage account are eligible for this offer, opening either account is a hard pull on your credit report but both of the accounts are useful for different reasons (and you can open both and only one hard pull will be done).
Keep in mind you actually need to be referred for this offer, previously it wasn't required but they are verifying you are verified these days so keep that in mind. The person who refers you doesn't get anything, so it can be difficult to find somebody to refer you. I'll add this to our list of the best brokerage bonuses due to the new tiered payout structure.
Do not request a referral in the comments below. You can request a referral in this dedicated thread. 
Hat tip to YCX, nathan, and Tom
Update: Now a soft pull