Update 10/27/23: Deal is back with promo code ONAS1023.
Offer at a glance
Maximum bonus amount: $200
Availability:AK, CO, CT, ID, IN, MA, ME, MI, NY, OH, OR, PA, UT, VT, or WA
Direct deposit required: Yes, $500+ required
Additional requirements:  Use promo code
Hard/soft pull: Soft pull
Credit card funding: Can fund up to $50
Monthly fees: $7, avoidable
Early account termination fee: $25
Household limit: None
Expiration date: November 8th, 2019 April 24, 2020 July 17th, 2020 September 18, 2020 October 23, 2020 November 20, 2020 August 12, 2022 March 3, 2023 July 21, 2023
The Offer
KeyBank is offering a bonus of $200 when you open a new eligible checking account and complete the following requirements:

Use offer code ONAS1023
Make one direct deposit of $500+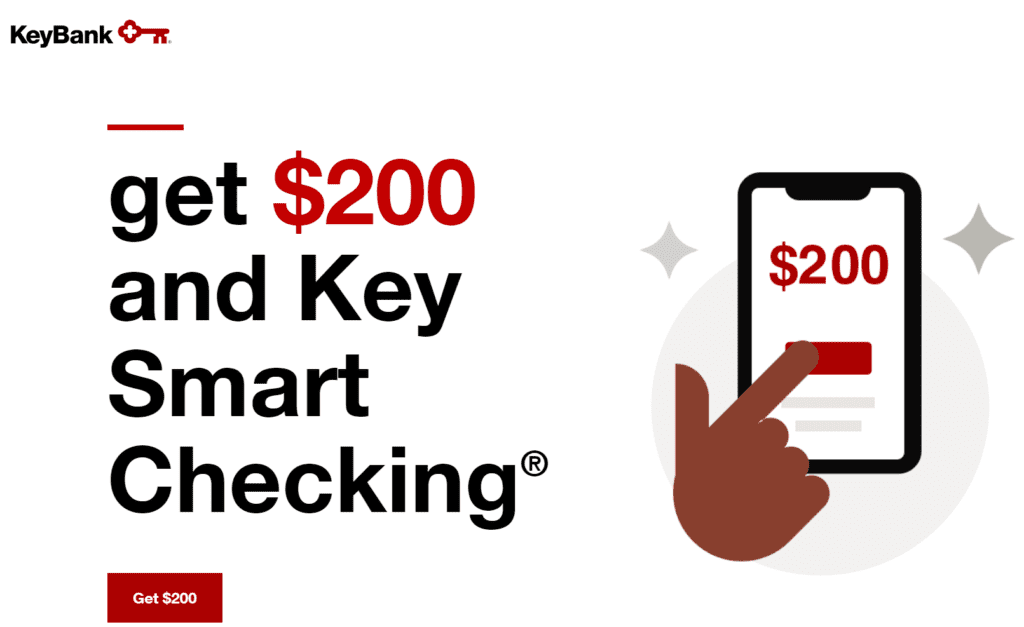 The Fine Print
Offer available online only.
You must open a Key Express Checking® account (this is the basic banking account in NY), Key Advantage® checking account, Key Privilege® checking account, or Key Privilege Select Checking® account by the expiration date and make ONE single KeyBank direct deposit of $500 or more within 60 days after account opening to get $200. Normal account service charges and balance requirements apply to these accounts.
Direct deposit transactions are limited to: payroll, Social Security, pension and government benefits. Accounts titled as Trust Accounts, Estate, and No Access are excluded from eligibility. Employees of KeyBank, its affiliates and subsidiaries are not eligible for this offer. Offer/Reservation number is non-transferable, cannot be sold and is required to qualify.
Limit one gift per qualifying account.
Limit one gift per individual.
The value of your gift will be reported on Form 1099-INT and deposited into your account within 60 days of meeting requirements.
If you close your account within 180 days of account opening, you will be charged a $25 account early closure fee.
Other miscellaneous charges may apply.
Offer not available to individuals who have had a KeyBank checking account or a KeyBank Hassle-Free Account® in the last 12 months.
Accounts overdrawn or closed at the time of gift payment are not eligible.
Offer is subject to cancellation without notice and cannot be combined with any other offer. KeyBank is not responsible for and will not honor promotional offers that appear on third-party websites that are not authorized by KeyBank.
All bank account bonuses are treated as income/interest and as such you have to pay taxes on them
Avoiding Fees
Key Smart Checking No Monthly Fee
This is a new account that can be opened with no monthly fee to worry about.
Early Account Termination Fee
If you close your account within 180 days, you are required to pay an early account closure fee of $25
Our Verdict
Normally there is a $300 deal, but that is only available in selected states in the fine print. This time there is no location restriction in the fine print, so it'll be interesting to see what states this bonus is open to. Fingers crossed it's available nationwide. If that's the case we will be adding it to the best checking bonuses. It's worth checking to see if you live in an area that is usually targeted for the $300 deal as well, if so I'd wait for one of those to come along.
Hat tip to UrbanEngineer & Priscilla
Useful posts regarding bank bonuses:
Post history:
Update 9/18/23: Deal is back until October 13, 2023
Update 7/27/23: Deal is back, expires 8/18/23
Update 5/31/23: Back again until June 16, 2023. 
Update 4/17/23: Back again until May 20.
Update 3/14/23: Deal is back and valid until April 7, 2023.
Update 2/3/23: Deal is now good through 3/3/23. Direct deposit is required again.
Update 12/17/22: Deal is back and valid until 1/6/23.
Update 7/20/21: Extended until August 13, 2021. Hat tip to PD
Update 6/14/21: Extended until July 9, 2021.
Update 11/28/20: Deal is back and valid until 1/22/2021
Update 11/4/20: Deal is back and valid until November 20, 2020.
Update 9/22/20: Deal is back and valid until October 23, 2020. Hat tip to reader Don B
Update 9/13/20: You can now open a key smart checking account with no monthly fee. Hat tip to Kyle.
Update 8/17/20: Available again until 9/17/20 with code ONAS0820. Hat tip to Trampdad
Update 7/24/20: Available again until 8/14/20.
Update 6/28/20: Deal is back and valid until July 17th, 2020. Hat tip to reader Jake W
Update 4/26/20: Deal has been extended until May 15th, 2020.
Update 12/10/19: Deal is back and valid until April 24th, 2020. Hat tip to kas141
Update 8/26/19: Deal is available again. Hat tip to reader Dan R